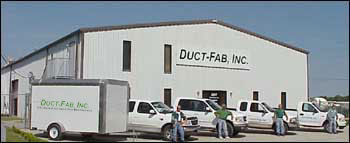 New to the industry in name only, Duct-Fab, Inc. had extensive knowledge of designing and fabricating HVAC ductwork systems for all types of applications. With many years in the business, Duct-Fab Manager/Operator Cody Breaux, can bid you next job with quickness and competency.
Cody keeps up with the latest info from S.M.A.C.N.A., N.F.P.A., S.B.C.C.I., U.S.C.G., S.O.L.A.S., A.B.S., and many other governing organizations which may be involved in your ductwork design.
Using Advanced Cutting Systems "Ductmaster" CNC plasma cutting system, Duct Fab can fabricate your next ductwork job quickly and error-free. With this capability, Duct-Fab can fabricate your ductwork with computer accuracy and plasma speed, all the while saving you time and money. (We had one customer who tried us then promptly sold all his fabrication equipment.) With "Auto-Cad 2000", Duct Fab can design, draft, and plot your project so you can "look at it before you buy it".
We have a motto at Duct-Fab, "IF WE CAN'T SAVE YOU TIME AND MONEY, WE DON'T DESERVE YOUR BUSINESS", and we mean it. Let us show you how to beat the competition without the added cost of fabrication equipment and labor. Give Cody a call for a quote on you next ductwork job. Give us a chance to save you time and money.

Our phone number is:1-888-423-8979. Our e-mail address is engineering@ductfabhouma.com.